5.HUNGARIAN FILM FESTIVAL OF LOS ANGELES PRESS CONFERENCE 2006 @URANIA THEATER BUDAPEST

HAJRÁ MAGYARORSZÁG!
Az Oscar-díjakról döntő bizottság, az Amerikai Filmakadémia kihirdette az Oscar-jelölések előtti utolsó kör, a szűkített lista (Oscar-shortlist) filmjeit: a tíz legjobb nemzetközi film közé bekerült Tóth Barnabás nagyjátékfilmje, az Akik maradtak.
Oscars Shortlist: Academy Reveals Remaining Contenders in Nine Categories; INTERNATIONAL FEATURE FILM…
See More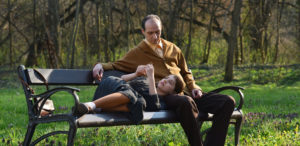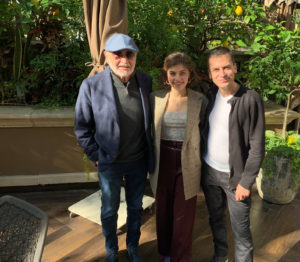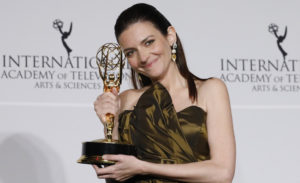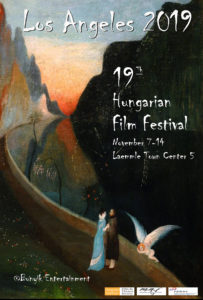 Our Mission
The Hungarian American Film & Theater Society's mission is to build a bridge between active Hungarian American filmmakers living in the United States with their peers in Hungary.
Our purpose is to assist Hungarian talent, the directors, actors, cinematographers, composers and filmmakers. We exist to create a partnership with them, let the society members share their knowledge, their experiences, passion and love for the arts.
The purpose of the Hungarian Film Festival of Los Angeles
is to make the United State aware of Hungary's thriving film making presence. It also introduces Hungary's new talent, as well as keeping visibility on talent already established to date. This Festival is a cultural event, being held in a free arena, which means that the selection of films is not chosen for a selected few, but for everyone.
About Us
"The Hungarian Film Festival is without a doubt the best ethnic film festival in Los Angeles. It is well programmed and well produced. I can not think of a better way in which to promote Hungarian cinema in Hollywood." GREGORY LAMMLE …Lammle Theaters
"The opportunity for film enthusiasts to see Hungarian films, exchange ideas and generate relationships in the entertainment community are just the beginning of the positive benefits that stem from the Hungarian Film Festival. This festival provides an opportunity for Hungarian filmmakers to voice their passion for storytelling through the beauty of film. "An American Rhapsody", a film by Hungarian Eva Gardos, was the International Grand Prize winner of the Hartley-Merrill Screenwriting Competition, but it was the Hungarian Film Festival that allowed Eva to share her voice with the rest of the world."
DEBBIE VANDERMULLEN… Hartley-Merrill
"The festival has made it possible to meet and converse with Hungarian directors, writers and actors and be exposed to films we would ordinarily not see. Hollywood can be quite insular. We need the Hungarian Film Festival to enrich our cultural scene."
IRVIN KERSHNER … Film Director/Producer
In loving memory "Congratulations Bela on your Fourth Annual Hungarian Film Festival in Los Angeles. You're the best Hungarian Ambassador for introducing Hungarian Film-makers & their films to Hollywood. All the best.
IKA PANAJOTOVIC … Film Producer
"The Hungarian Film Festival in Los Angeles has been a very important event. I'm thanking Bela Bunyik (Bunyik Entertainment) for there excellent presentation and to keep reminding the public that the Hungarians are still among the Best Movie makers in the world!"
MICKY HARGITAY … Actor
"The Hungarian Film Festival never fails to delight. I look forward to seeing old friends and new emerging talent. The quality of Hungarian film making is of the highest order."
CHARLES COHEN … Film Producer
"The Hungarian Film Festival presents to the Los Angeles community new and rare Hungarian films. I have been especially enriched by meeting director colleagues, Karoly Makk and Janos Szasz. My praise to Bonnie and Bela Bunyik for their tireless and wonderful work bringing the festival to us.
DAISY GERBER … Film Director
"I have seen some amazing films every year at the Hungarian Film Festival – Some made me laugh, some cry – but all memorable– This is an event in L. A. that all film lovers should not miss!!"
EVA GARDOS … Film Editor/Director
"Each year I look forward to the Hungarian Film Festival. The only venue in Los Angeles where one can see the best and the latest films from Hungary. Often I take my entire class and meet in a nearby café afterwards to discuss the film we just saw. Bela Bunyik's tireless efforts always pays off when lines form around the theater to purchase tickets. The appreciative audience is always unique since it includes not only the local Hungarian community, but people from the film industry, academic students & the general film going public. Keep doingIt Bela!"
GABOR KALMAN … Professor USC School of Cinema – Television & Art Center College of Design
"There is such a sense of anticipation, hope and joy for me at the thought of the Hungarian Film Festival. I get so excited to feel part of "the family" again, to feel the beat of Hungary, to keep abreast of my people, my country, my peers, and to meet and talk to visiting Hungarians or local Hungarians, or others who simply love and appreciate the Hungarian film industry as much as I do. I wish more people would share this energy with me and come participate. Hungary needs our support."
KATHLEEN GATI … Actress
"Dear Béla, Congratulations on your honor! At the cost of many struggles, you gave a wonderful experience for Hungarian actors and artists alike! Such a selfless person is rare in Hungary, thank you on behalf of all of us! I wish you a long, happy life with your loved ones! I hug you with love and respect!
ENIKŐ BÖRCSÖK ... Actress
"There would be no Hollywood without the contributions of great Hungarian artists and movies makers. The Annual Hungarian Film Festival has been re-Introducing our still great Hungarian artists to the American public. This service to all of us should continue creating new awareness of our nation's artistry. Thank you for bringing us gems like the "Glamour" and its talented writer/director Frigyes Godros, among others."
DR. ILDIKO F. CSETO … Attorney At Law
"The Hungarian Film Festival is a once-a-year opportunity to catch the latest cinematic gems coming from Hungary, and to witness that the creative energy of Zukor, Fox, Curtiz and Korda lives on in the newest generation of Hungarian filmmakers."
DENNIS FRIGYES FREDRICKS … Attorney At Law